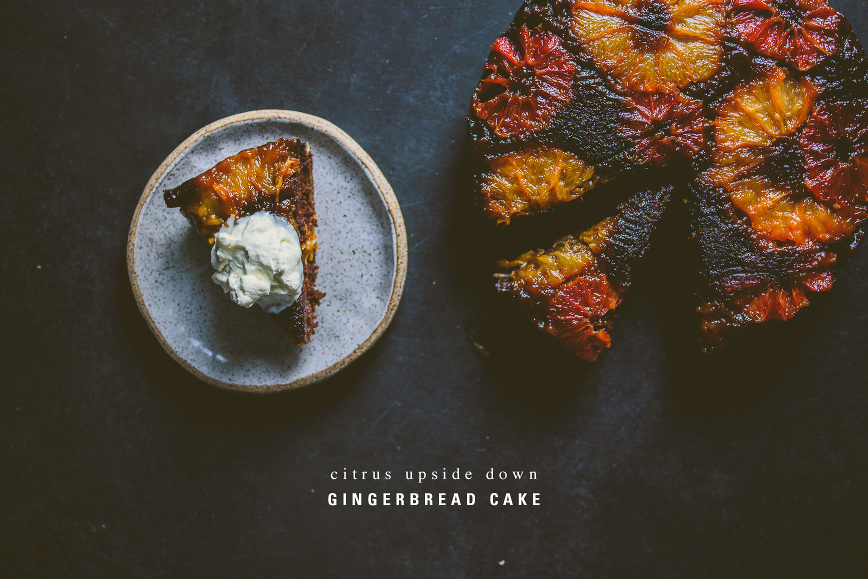 As we all start to gear up for more holiday baking and entertaining, I have an awesome giveaway to further assist you in your baking needs – a baking package from Vermont Creamery, a Pie Box, and a linen half-apron and two linens from Redhouse in Vermont!!!! If you're into baking, enjoy food styling, or just into delicious cultured butter and mascarpone, this is the giveaway for you. You can bake AND wear a beautiful apron for protection. Find out how to enter below!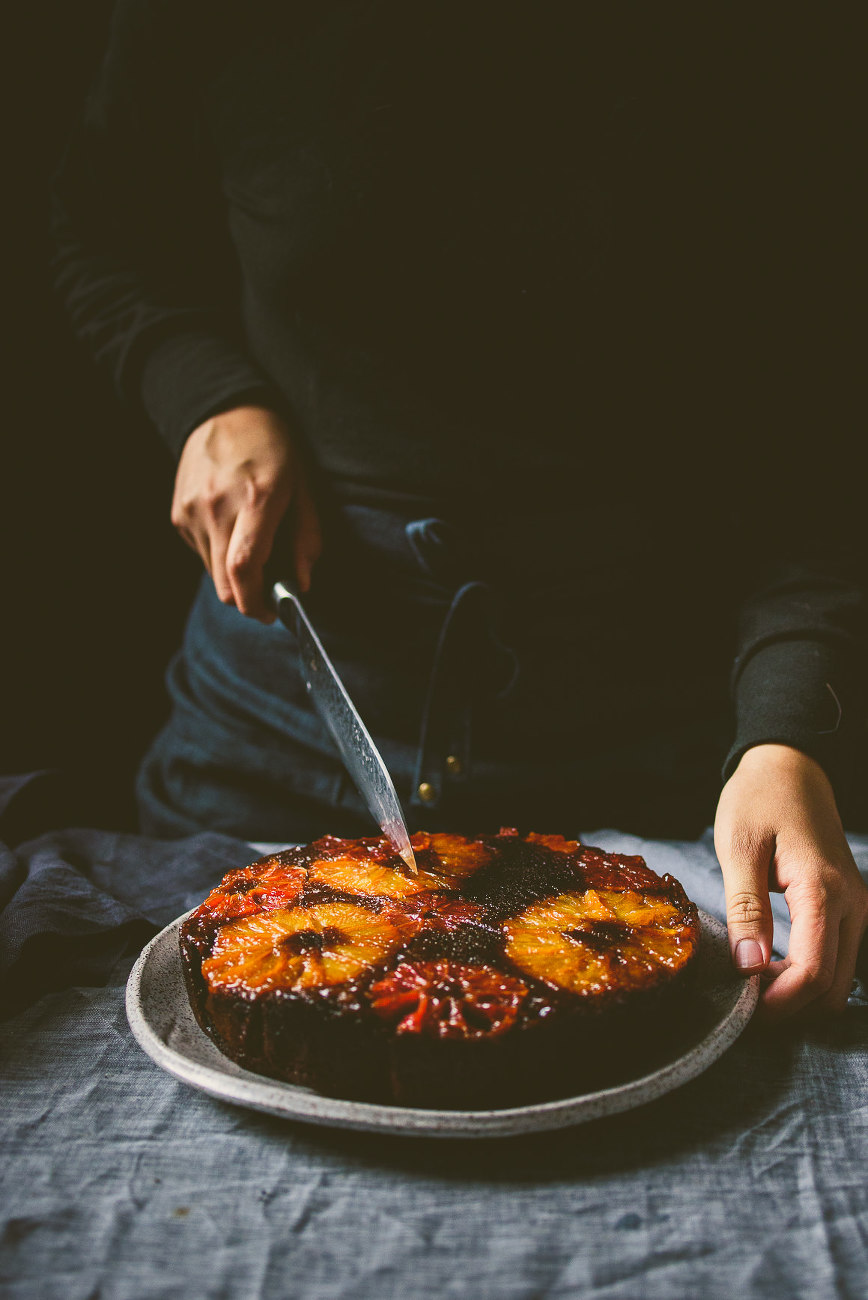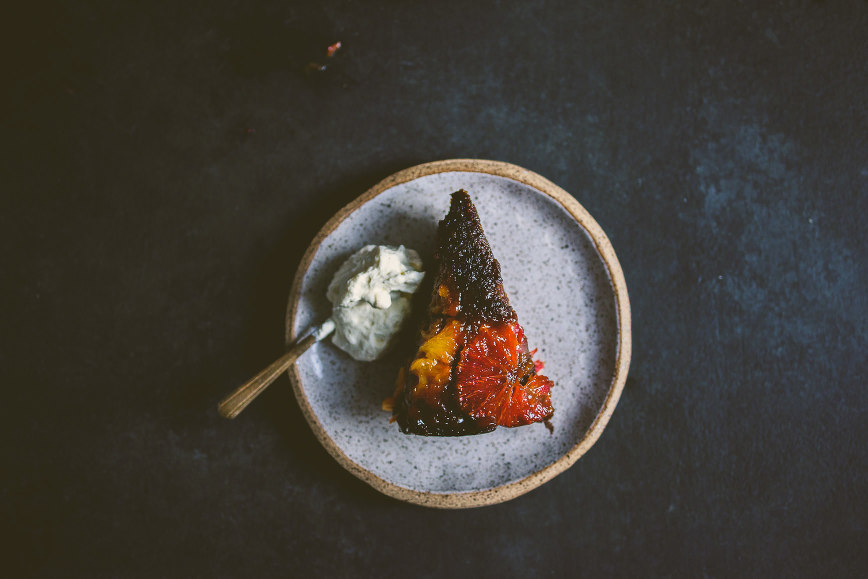 Yesterday, I took a walk around the quiet, suburban town I grew up in and for the first time noticed all the amazing produce that sits so casually in people's front yards – all kinds of citrus, pomegranate, olive, magnolia, persimmon, fig, succulents of all varieties… My parents showed me what they've been growing, and I'm so sad I'm not usually here to see these trees bloom and fruit. There's the giant orange tree that has been there since I could form memories – tall, bountiful, and never failing to gift us with buckets of the sweetest oranges I've tasted. For the past ten years my parents have nurtured a tall, lean beauty of a persimmon tree (you may have seen in my Instagram story). It produces giant (palm sized) fuyu persimmons that pepper the tree with is gorgeous angular branches. My parents are partial to this one because persimmons, apparently, can stay on the tree for a decent amount of time without going bad. A few become food for birds, and my parents can slowly enjoy the persimmons at their leisure. The predecessor was a pear tree, which was delicious but went ripe all at once, and apparently it was too much. I'm sad that by the time I came home all the persimmons have basically been picked (ok. I selfishly just wanted to take some photos of branch-on persimmons), but I've been munching on these ripe giant persimmons like candy since I've arrived. They also grow figs, lemons, tangerines, and Chinese hawthorns!!!
It's good to be home. As I mentioned in my Instagram post, I tend to revert back to home-from-college-break mode – aka, lazy, unproductive, and wanting to eat everything mode. I had to escape to a coffee shop to get some work done. And then I'll be lazy again.
Safe travels and happy holidays, friends.








I have a vibrant citrus upside down gingerbread cake for you, topped with the most luxurious vanilla bean mascarpone cream, a cream I could eat by the spoonful and the cream I now cherish above all other creams. This cake is the epitome of holidays for me – vibrant tangy citrus, spiced gingerbread with real ginger grated in, and decadent cream. The combination of the mascarpone cream with warm gingerbread cake is heavenly, and it belongs on your holiday table.
This mascarpone from vermont creamery basically moved into my fridge and I'm not letting it move out. It's a decadent, rich, thick mascarpone that is just perfect for cream. I fell in love with mascarpone in general from chomping on tiramisu a long time ago, and ever since it's been in my mind as the perfect texture and flavor for a dessert cream, but I never really found the right mascarpone to whip into a luscious cream. Well, this is the one. Scrape some vanilla bean seeds into mascarpone and heavy cream mix and whip it to fluffy clouds – you won't regret this. I've served this cream with this cake and also in hot chocolate, on top of pie, and with ice cream. Actually, it's quite the cream for the holiday season – it'll go with all the treats.




This post and giveaway is sponsored by vermont creamery. All opinions expressed are purely my own, as always. Thank you so much for supporting the companies that support this blog. They make the best crème fraîche (that I use for both savory and sweet things), cultured butter, mascarpone, and of course, goat cheese, and it's constantly stocked in my fridge.
---

GIVEAWAY
Friends, you won't want to miss this giveaway. I'm partnering with vermont creamery and Red house in Vermont to give away:
UPDATE: Giveaway now closed! A huge thanks to those who entered. Congrats to Kelsey! Bake away

---
RECIPE: Citrus upside-down Gingerbread Cake with Vanilla Mascarpone Cream
adapted from here
Vanilla Bean Mascarpone Whipped Cream
1 cup mascarpone
1.5 cup heavy cream
2 tbsp powdered sugar
1 vanilla bean, seeds scraped out

Citrus Gingerbread Upside-Down Cake
1 grapefruit and 2 blood oranges, sliced with peel/rind and seeds removed
1/3 cup brown sugar
3 tbsp unsalted butter

2.5 cup all purpose flour
1.5 tsp baking soda
1 tsp cinnamon
1 tsp ground ginger
½ tsp ground cloves
1 tsp ground cardamom
2 tsp grated peeled ginger
pinch sea salt
1 cup light molasses
1 cup boiling water
1 stick butter, softened (1/2 cup)
½ cup light brown sugar
1 large egg, beaten
Preheat oven to 350. Coat 9" round pan with cooking spray. Line with parchment paper and coat with spray.
Melt 3 tbsp butter in small saucepan over medium heat. Add 1/3 cup brown sugar and cook, stirring, until sugar is dissolved. Pour into prepared pan and spread evenly. Arrange grapefruit and blood orange slices over the caramel layer.
Meanwhile, sift together flour, baking soda, cinnamon, spices, salt in a bowl and set aside.
Whisk together molasses and boiling water in a small bowl until combined.
In the bowl of a stand mixer with paddle attachment, cream butter with sugar until creamy and fluffy. Beat in egg until combined. Either by hand or with paddle attachment on slow, mix in 1/3 batch of the flour mixture. Mix in 1/2 the molasses, then another 1/3 of the flour mixture. Mix in remaining 1/2 of molasses, then the final flour mix. Beat on low speed until smooth.
Pour over citrus without disturbing the arrangement, and bake until toothpick comes out clean, around 40-50 minutes.
While cake is cooking, make mascarpone cream. In the bowl of a stand mixer with whisk attachment, beat mascarpone, heavy cream, vanilla bean scrapings, and sugar until fluffy and soft peaks form.
Let cool, then run knife gently around edges, and invert with a lid over pan. Gently peel off parchment paper. Serve with marscapone cream.