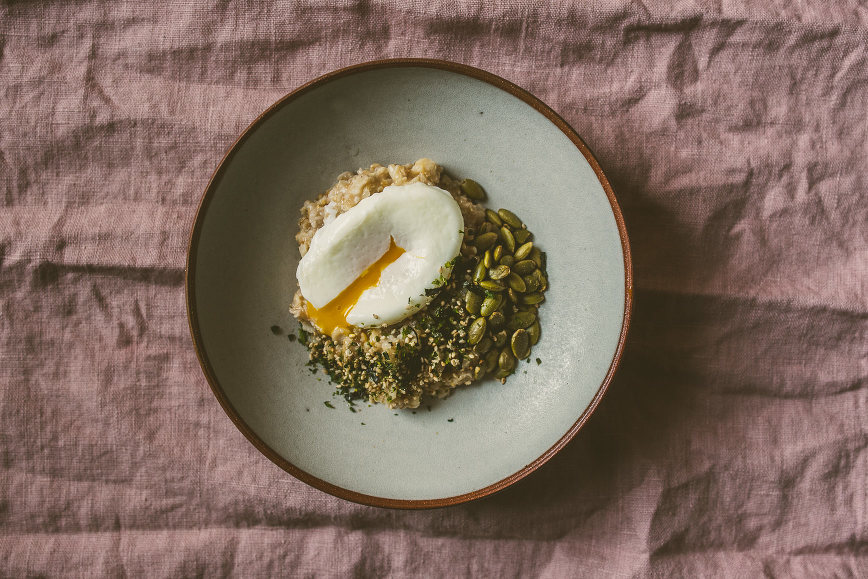 Hello friends. It's been a heavy week for a lot of us, but I've found strength in community, in the actions of strong women and men, in hope and unity that leads me to cautiously believe in a brighter future. This week I'll be retreating to the depths of Big Sur with a group of lovely ladies and talk about what we can do while healing with food and camaraderie (and making Savory Miso Oatmeal) Next week, a rather amazing group of bloggers and me will share our thoughts and how much we cherish the immigration values that America has always stood for.
I've found healing in creating food, and as always, food has, more than ever, become an outlet where I can express all my feelings. This past weekend I chose not to use my stand mixer to make bread, and instead just kneaded into it, the old fashioned way. My arms screamed afterward but I felt satisfied.
As I sit here writing this, I'm eating this oatmeal. It's literally been my go-to breakfast since I whipped it up for the first time. It's easy, takes 20 minutes to make in the kitchen, and it's so delicious that I served at my workshop in Rhode Island (recap soon), and converted many to savory oatmeal!
I never really liked sweet oatmeal. Alex loves his apple and cinnamon, but I don't know – I just didn't have a taste for super sweet oatmeal. I had a run where I loved overnight oats, but more for the convenience of grabbing a mason jar out of the fridge, something I can bring to class for breakfast or lunch. I love a good sweet baked oatmeal, and I will never say no to granola. I see this as a fusion version of congee, which is usually savory, with bits of pork, fermented egg, and pickled greens. Instead of rice, I used a combination of steel cut oats and rolled oats, courtesy of April Bloomfield's perfect porridge, but cooked in miso water, with good sea salt, and topped with furikake, a Japanese rice seasoning, and a poached egg! Seeds if you like. This is so simple and based more on proportions that I feel weird calling it a recipe, but, you all asked, so here you go! After making this 1-2 times, you'll be like, psh – I can make this with NO RECIPE!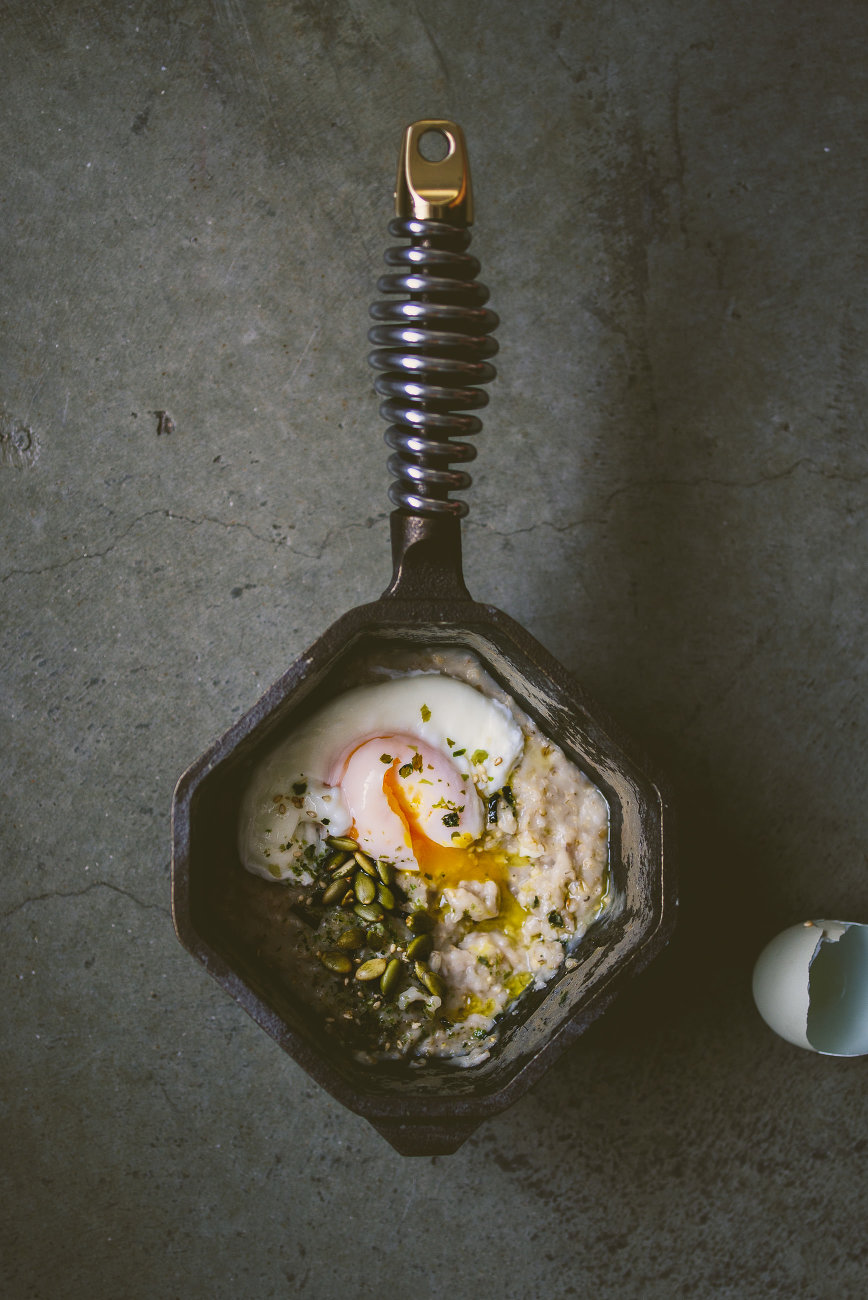 I never got around to making my 2016 reflection post. It's something I strongly believe in, as a way of learning from the past and to allow myself to set intentions going forth. I used to diligently write down specific resolutions, but after several years of failing to keep any resolution, I've decided not to set myself up for failure for 2017. Instead, I'm thinking of intentions, goals for the next year.
2016 was a rollercoaster. Professionally, 2016 was a wonderful year. I feel like I finally found my voice in terms of photography, and I worked with some brands that I absolutely love. I hosted 4 workshops, worked with comrades I admire and respect, and met some amazing people I can now consider true friends. Instagram featured my stop-motion videos twice, and I published a tutorial that equipped many to make their own videos. In disbelief, I was nominated thanks to you for Saveur's best photography award. This led to more connections and friendships that I am so grateful for. My wedding business flourished, bringing us all over New England, as well as Canada and California, and then one of my dreams was checked off: we photographed a destination proposal in Iceland. We had our best season yet, and are booking happily for 2017/18 now. This was a year of travel and adventure. We visited Iceland twice – once in the winter for pleasure, and then the second time for the aforementioned engagement, during which we travelled the whole ring road and experienced Iceland in autumn (photo essay to come).
I'm so grateful for all the opportunities I've had and all the connections I've made, and I am proud of what I've done with this blog, but I also know this has to change. I was balancing food blogging / photography, a full-time wedding photography load (thank god for Alex) and medical school, and I often get asked – how do you do this? Here's the hard truth I've had to face: I don't. Behind the scenes of pretty food and scenes is chaos. I fell sick several times (and even shot a wedding with a fever once, gulping tylenol through the day, and another time erupted in whole-body hives and fought to shoot through a benadryl haze) and felt more burnt out creatively than I'd ever had before. As a result, my social life suffered. My health suffered. My day-to-day life was packed with meetings, projects, to the point that if I lounged around on the couch not working, I'd feel anxious and unsettled, sure that I have something to do. My life revolved around planning recipes. Recipes take extensive testing, then photographing them takes a whole day. The problem is I've always been a "say-yes" person, and I get so excited for collaborations and projects, and I just want to do it, even if it means sacrificing me-time.
My intention for 2017 is clear. Instead of my life revolving around recipes, I'm going make recipes that revolve around my life. 
I'm not giving up blogging, or my passion for photography. I need a creative outlet to keep me fulfilled and happy, to balance out the other sides of my life. I love photographing weddings with Alex – it's rewarding to photograph with the partner of my life, more than I can explain. When I first started, I thought I would be the only one referring to it, as it was a way to document some of my mom's recipes and my kitchen experimentations. It was a fun, creative outlet. It's since opened up so many opportunities to work with wonderful brands, and that's been a journey in itself. Since I started blogging I've held myself to blogging once a week, and I feel that I owe it to all of you, my dear readers and supporters, to let you know that I'm likely cutting back in 2017. The pressures of keeping up the numbers and doing once a week has changed the original intent of this space, and I want to rediscover that in 2017. I'm continuing to work with some of the brands I love, but I'm limiting myself and being more selective. The problem is, my mind goes on and on and I constantly am jotting down new recipe ideas in my nifty notebook that I am just dying to create and share with you if successful, but I'm going to make a real effort to relax a little, and make it fun for me again.
Thank you for reading, and thank you for your continued support of this blog. I am so excited when you comment or email, and I always welcome hello emails. Thank you. You've made this blog more than I ever dreamed it would be. Here's to a wonderful 2017!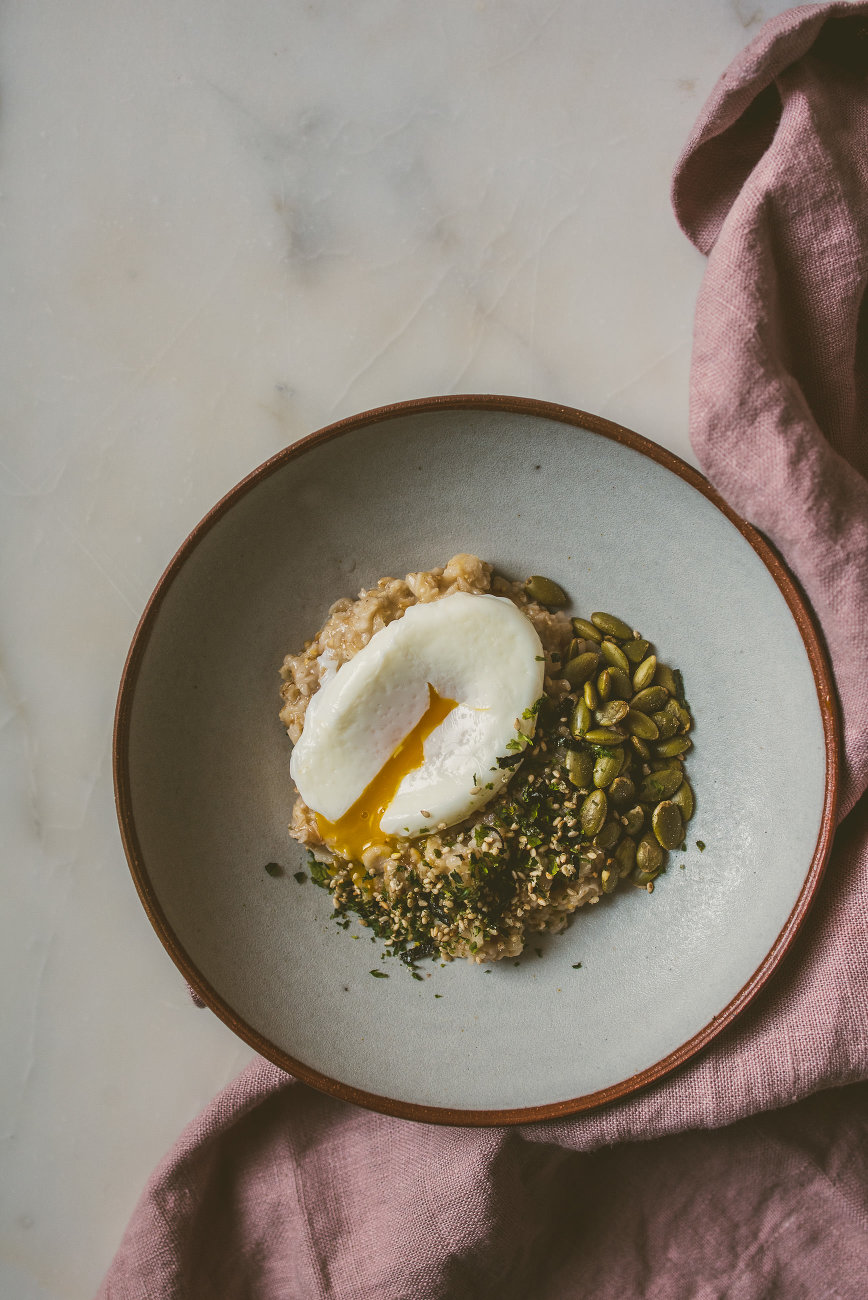 ceramic bowl – Myrth ceramics / linen – rough linen / pan – finex
RECIPE: Savory Miso Oatmeal / Porridge
to serve 2-3
1/2 cup steel cut oats
1/2 cup old fashioned rolled oats
1 tbsp miso paste
1 tsp good sea salt (I use Maldon sea salt)
furikake, salted seeds, poached egg, to top
3 cups water
The ratio of oats to water is 1:3, and the oats is divided into a combination of steel cut and rolled, to give it a chewy but creamy texture. It's truly genius, and all credited to April.
Heat up water until it is boiling. Add in oats and stir in 1 tbsp miso paste. Turn heat to low. Let simmer, stirring occasionally, for about 20 minutes, until it is creamy but chewy – adjust to your preference. Add in salt and adjust.
Top with furikake, salted seeds, and a perfectly poached egg! Enjoy!