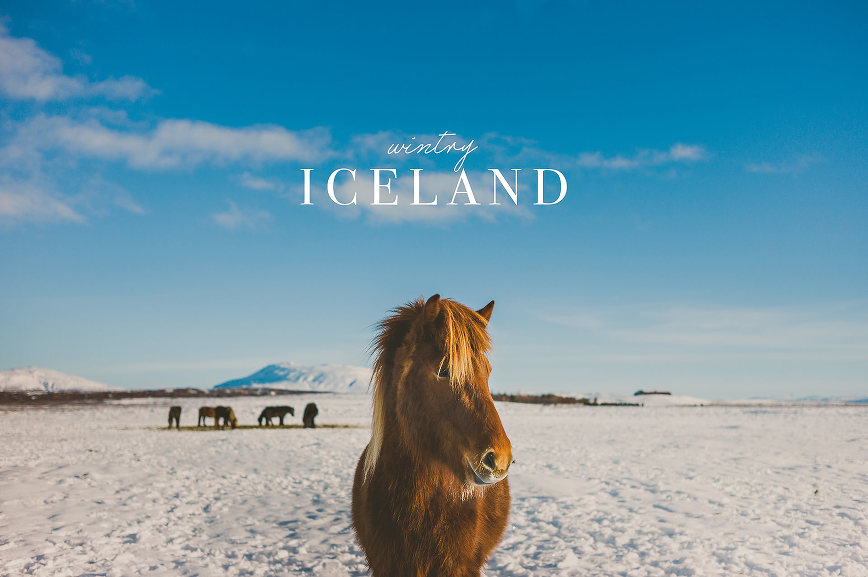 On the flight to Iceland from Boston, our wonderfully humorous flight attendants "woke" us up and notified us of the presence of the famous, mystical northern lights – weak but sort of visible – but on the side of the plane we weren't sitting on. Those on that side reared up like a wave, the unfortunate ones on the aisle seat craning their neck, so that even the appearance of the plane's window was obliterated by staggered necks, hats, and hair. I could hear mutterings – the frustrations emanating out of the barely visible green streaks. I stayed in my seat, smiling to myself, letting that feeling of anticipation wash over me.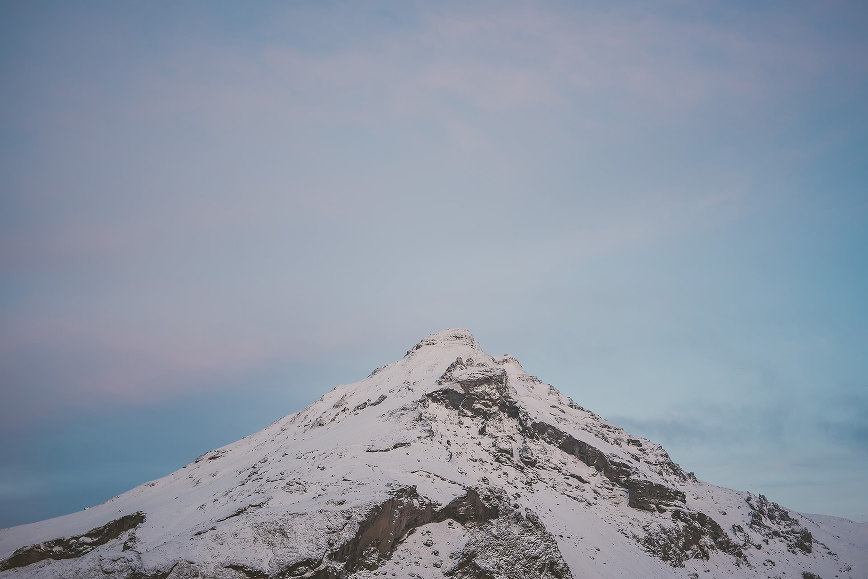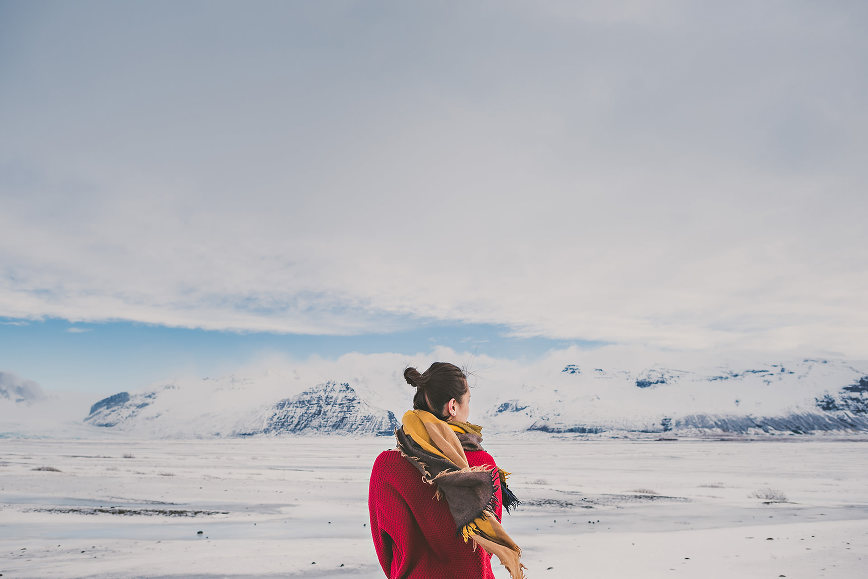 (PS – a TON of photos in this post. Please be patient and let them load :))

This was a pretty spontaneous trip for us (ps – huge thanks to Stephanie and Carey for all the recs and for patiently answering my questions!!!). Since Alex and I started planning, I was gripped with anticipation and excitement. For the crazy blue skies, the almost desolate isolation, the stark landscapes of wintry Iceland, the half-icicle half-waterfalls. A little part of me inexorably poked that excitement, wondering, what if it's all a hype? What if I'm expecting magic (which I kind of was) and become faced with something less? I packed, repacked, tried to shove all my lenses in my bag, double checked the backup batteries, cards, and felt the pressure (Alex eventually took over gear packing with a more logical, cool head, balancing out my neuroticism). Everyone I've talked to about Iceland tells me, "You're going to get amazing photos", and I couldn't help but feel like I was almost on assignment, tasked with taking gorgeous photos because hey- I'm a photographer so anything less is unacceptable.
We landed in pitch-black darkness early in the morning, with snow gently falling, bestowing kisses – a chilly welcome. We hopped in our rental car, and drove straight to the South Coast (Vik area). Our first "scene" was Seljalandsfoss. Yup, the waterfall of everyone's Iceland dreams. We approached near sunrise, and the sky began to blossom up in streaks of purple, hues of orange sprinkled with pink, chasing away the pale greens and blues of night. All thoughts of getting the right shot instantly vanished, and my breath caught. Partly due to the freezing cold, but mostly due to the majestic scene before me. Turns out, yes: Iceland is just as gorgeous and magical as everyone says it is. Throughout the trip, I didn't once have more anxious thoughts about getting a "perfect" shot. Because you know what? Iceland makes it easy for you. In front, there's the glacier lagoon in its glorious, blue splendor. Next to you are the Icelandic horses, eager to pose. Turn around and there's another perfect icy mountain range. Drive up a short distance, and hey, there's a black sand beach. I could finally understand why this is often a photo mecca for photographers. All I have to say is, I'm glad we brought 2 bodies, 3 lenses, a film camera, and our Leica M9. Oh, and for all you gear nuts, Alex wrote about our trip and our thoughts on our new toys, the Leica M6 and M9. Iceland was a pretty good place to test the heck out of them!!!!

We didn't end up glimpsing the elusive northern lights, but Alex and I ventured out for three consecutive nights and huddled outside in triple layers, a wool blanket wrapped around us, tripod set up. Despite the chill, I was happy. Just being there with Alex, knowing we did what we could to stack the odds on our side. Holding his hand, gazing at the stars, the orange glow of the city off in the distance. It was peaceful. Quiet. Serene. A northern light sighting would've been a bonus, but the lack of it couldn't diminish our experience in Iceland.


Winter in Iceland
I'm by no means an expert in winter travel in Iceland, but here are some tips from my trip:
either get a 4-wheel drive, or upgrade to studded tires

. The roads can get pretty icy, and the winds are insane

beware of wind

– something our rental car company advised us was to hold on tightly to our doors when we park and get out, because wind blowing car doors off is apparently a common hazard. There were certainly times when I appreciated his advice…. One some stretches (like from Vik to Skaftafell), our car actually skidded / was pushed by enormously powerful winds.
if you've a desire to go on the glaciers, get a

glacier hike tour o

r those spiky ice strap-ons for shoes. We stopped by Solheimajokull glacier and gingerly made our way on part of the trail, but after the first stretch, a sign screamed at us to stop unless we had a guide, because the glaciers were actively calving!! Yikes!

gloves, hats, coat

get out at night and

hunt the northern lights!!

!!! Don't go expecting them, but at least try, right?
the only thing I was disappointed in was that some of the trails were so iced over we couldn't go on them. Even people will those spiky-clamp-ons couldn't make it up the staircase to get behind Seljalandsfoss waterfall. Skaftafell trails were also iced over, so we took the level, easiest hike to the glaciers. I admit, I fell 3-5 times throughout the trip, but what are bruises compared to experiencing these landscapes?? Iceland in the winter is magical, desolate, secluded, and resplendent in its pristine white landscape, but this has sparked my interest to go back and experience Iceland in the summer (and we can go on all the little roads that were closed off to us)!!!!

How can I ever do Iceland justice with words? I'm not much of a writer, so instead I have for you a whole post full of images, likely one of my most photo-heavy posts (with probably too many portraits of the playful Icelandic horses and way too many waterfall photos).
---
Seljalandsfoss


We arrived at blue hour, with sunrise beginning to sneak in. Oh my, was it beautiful. I set up my tripod and waited for the clouds to pass by, to reveal some color into the frame. It wasn't hard to be patient. Just gazing up at the thundering waterfall, with hardly any other visitors so early in the morning, was a reward.

Huge thanks to Mefoto for letting me try out their carbon fiber road trip tripod! It's sturdy, stood up to the crazy Iceland winds, and folded up to fit perfectly in our carry-on. I definitely recommend it for travel, and I know I'll be stowing it neatly away with me for our upcoming wedding season too!

---
Skógafoss 



This was one of my favorite waterfalls. It's so iconically Iceland – so majestic. You can climb up to the top and peer out at the top of the waterfall and get a really wonderful panoramic view of the area – and it wasn't iced over!!!





---
Vik + Reynisfjara Beach



Need I say much about this? Vik is a cute town, and the black sand beach is a must-see destination. The tides were dangerously high, though, so unfortunately the rock formation was blocked off. When we arrived, the sun was still making its way up, lending a gorgeous light to the rock formations.
---
Road to Jökulsárlón

The drive from Vik to Jokulsarlon was my favorite stretch – we were driving into a different world. Sheets of ice, vast stretches of land, glaciers in the distance replaced friendly roadside horse farms. Wind whipped sheets of snow across the road. So worth it!



and chilly Portra film portraits…. 

---
Jökulsárlón




Oh, Jökulsárlón!!!! Jökulsárlón is a beautiful glacier lagoon, and the ice ventured close to the shore. I revel in the wintry white landscapes. It almost seemed like we were navigating through clouds – that's how pristine the snow was. If you have any hesitations about how far to go on the Southern coast without doing ring road, I'd highly recommend making it out to Jökulsárlón. Every turn reveals another epic landscape.

---
Skaftafell



This was one of my favorite destinations, despite many trails being closed due to ice. We hiked to the glacier, and there, we really felt the scale. How vast it was. How small we were in comparison. It's an unworldly experience, staring at the icy blue glaciers, venturing close to actually touch some of them. When we go back in the summer, we're definitely spending several days in this park, to make to the famous waterfall here and exploring the other trails in Skaftafell!!!!

---
Reykjavík




Similar to other's experiences, we came to Iceland for the landscapes, not urban life. But Reykjavik is so darling!!!! The street art, the little boutiques, the fabulous food – I definitely want to spend more time exploring the food in Reykjavik next time. Check out Reykjavik Roasters, the famous Icelandic hot dog stand Bæjarins Beztu Pylsur, which was truly very delicious, and the tasting menu at Grillmarket!!! We didn't have time to check out the traditional rye bread from geothermal bakery Laugarvatn, but luckily we were able to taste some at Boston's Taste of Iceland event, and I'm definitely making it out there next time!!!!
In Reykjavik, we also participated in Reykjavik Excursion's Northern Lights Tour. As I mentioned before, we didn't' end up seeing any northern lights, but with cloudy skies and indexes of 1-2, the odds were not in our favor. We had a really lovely time with the tour, though. We were able to go for two other nights due to its policy – if you don't see the lights one night, you can go back any other night on your trip, up to a year (maybe Alex and I will have to go back to take advantage of that :)). The guides were super informative and made the trip easy and upbeat, despite not seeing any lights!!! Thanks for having us, Reykjavik Excursions! (This wasn't a sponsored post, but they did welcome us on this tour).


Grillmarket Tasting Menu – if there's one meal you want to treat yourself with, reserve a table at Grillmarket and get the tasting menu. You'll be treated to some amazing Icelandic cuisine, including squid, shark, puffin sliders, local mussels, lamb, cod, and a decadent display of desserts! It's a wonderful introduction to Icelandic cuisine – I highly recommend it.


---
Blue Lagoon + Lava Restaurant
One of my classmates and her friends are going to Iceland for spring break (lucky them), and she asked me, is Blue Lagoon worth it? It's pretty pricey and seems to be what everyone does. My honest, enthusiastic answer: YES!!!!!! It's an experience like no other, soaking in a pale, pastel-y, milky blue water at the perfect temperature, against gorgeous formations. We soaked during sunset, providing a wonderful warm contrast to the blue water, with steam rising visibly up into the air. Mud masks, algae masks were given, promising "10 years off our face", which would… make Alex and me 14. I can't say it worked, but it certainly felt relaxing :). Alex and I deliberated for all of 1 minute if we should go and grab our camera from the locker – the scenery was simply too stunning for us to not take a photo.




After our relaxing soak, we had dinner at their renowned Lava restaurant. Food? Great. I had delicate, tender cod, and Alex had a lovely lamb (both of which Iceland is known for). I'd go back for the food, but the whole experience was a bit lackluster. High ceilings and windows revealed a wonderful view of the geothermal springs, but square tables arranged in an almost grid-like formation gave the feeling of being in a cafeteria. We also omitted the tasting menu, but we both tangibly felt a shift in attitude from our server vs the couple next to us who were ordering a tasting menu… Overall? I don't think I'll be back to Lava Restaurant. But I'm definitely going back to Blue Lagoon!

---
Golden Circle: Þingvellir, Gullfoss, Strokkur, Kerið 

Gus, I LOVED Þingvellir and Gullfoss!!! I have to admit, the influx of tourists, even though we arrived at sunrise, was a bit of a turnoff. The difference in the number of tourists at golden circle versus the south coast was drastic. The south coast still had an air of isolation, with more horses than tourists, but in golden circle, lines actually formed on certain trails. Still, Þingvellir was amazing. I'd go just to Þingvellir, if you don't want to go through the entire Golden Circle. Gullfoss was pretty epic, too. Thundering waterfalls, mist hazing the edges, and scores of photographers with tripods clustered around the edges!!! Strokkur was fine, but maybe I'm not too into geysers?  Kerið is a volcanic crater lake – it doesn't look like much, but standing on the edge, gazing down at it – it's pretty impressive. Just the scale and slope of the crater, knowing that in the summer it becomes a natural amphitheater left me intrigued. All in all, I don't think Golden Circle is 100% necessary to do, especially if you're embarking on the Ring Road or would rather explore the southern coast more. If you have time or are limited to the Reykjavik area, then it's a great road that encompasses some major landmarks, but if I were you I'd focus on the south coast!





What I'm doing next time
-Ring Road!!!
-Westfjords
-Icelandic horse tour (I'll convince Alex to go :))
-going off-road
-Reykjadalur and Hveragerði hot river, about 40 minutes south of Reykjavik – it's supposed to be a longer hike to get there, but I'm all for it!!!! Natural mud masks, steaming valley, geothermal hot river?!
–Laugarvatn rye bread geothermal baking experience
And now, a bundle of horse portraits!!!




PS – bonus points if you can spot the film scattered throughout :). We got our scans back a few days ago and I've been so ecstatic about them!!!!!